Integrated Healing is a simple yet profound synthesis of applied kinesiology, Traditional Chinese Medicine, NLP, Cognitive Behavioral Therapy, Life-Coaching, psychology, western physiology and various other modalities.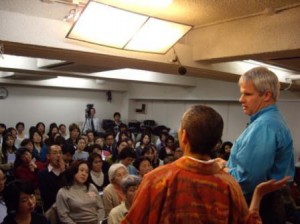 Nic Oliver giving a (translated) talk, spreading the awareness of kinesiology in Tokyo, Japan, 2007.
Kinesiology

Kinesiology is an approach to complementary health that uses 'Muscle Testing' to give bio-feedback and to identify areas of stress (emotional or physical), imbalance or dysfunction in the body's energy systems.
Kinesiology brings together healing modalities from the East and the West by combining Chinese Meridian therapy, Acupuncture and energy balancing with muscle testing, anatomy, physiology and psychology used in the west. Kinesiology is a non-invasive, truly holistic therapy, addressing the client's being as a whole to deal with physical, nutritional, emotional, spiritual and energetic problems.
Benefits of Kinesiology
One of the main benefits of kinesiology is that you don't have to relive the trauma, nor even talk about it if you don't want to. Integrated Healing is one of the most advanced forms of kinesiology currently available, combining kinesiology, life coaching and NLP to create a powerful and effective approach to healing.
Using this combination, the Kinesiologist restores balance in the client's body by eliminating energetic and psychological blockages, whilst honouring the wisdom of the client's own body and restoring its natural healing ability.
Using Integrated Healing, we have successfully addressed a wide range of issues such as:
Physical Issues
• Chronic Fatigue Syndrome
• Clearing Negative Consequences of Injury
• Fertility Issues
• Food Sensitivities
• Hip Rotation
• Pain
• Sexual Issues
• Spine/Back Alignment
• Sports Injuries
• Thyroid Balance
• Women's Health including PMT and Polycystic Ovaries
Mental and Emotional Issues
• ADHD and Learning Difficulties
• Brain Integration
• Emotional Trauma
• Healing the Inner Child
• Lack of Self-Confidence
• Phobias and Anxiety
• Psychological Issues
• Reclaiming Personal Power
• Self-Sabotage and Self-Limiting Beliefs
• Stress
• Survival Programs
Spiritual Issues
• Clearing Invasive Energies
• Clearing Spiritual Blockages
• Soul Integration